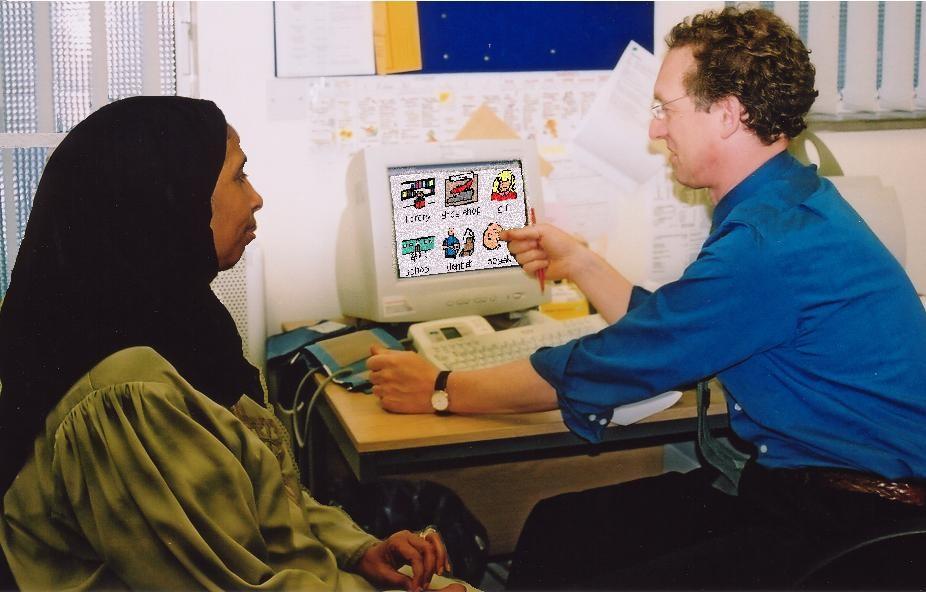 CANES is an umbrella name for a group of projects arising from community-identified priority problems and working with members of the community to provide support based on language technology in a healthcare environment for ...
P L O N E s
Patients with Limited or No English
In many parts of the UK there are recent or long-term immigrants, refugees, and asylum seekers and other people whose poor command of English means that they encounter severe communication difficulties and barriers when accessing healthcare services.
Components
ESRC project: AAC symbols for use by PLONEs

Communication problems in healthcare

Machine Translation, include spoken language translation

speech recognition and synthesis for minority languages

'Faking it': using existing text-to-speech programs to provide stop-gap solutions

ECSTATIC - English-Chinese speech translation allowing treatment of intonation contours
The problem:
4 language and cultural needs of patients not met

4 expressive and receptive communication difficulties

4 Patients unable to describe their symptoms

or understand the diagnosis and treatment

4 results in frustration, anxiety, and dependency on others
The solution:
4computer-based language technology, including ...
8AAC symbols
8intelligent keyboards
8speech synthesis (recordings or digitized speech)
8speech understanding and recognition
8machine translation, inlcuding spoken language translaiton
Work in progress/recently completed:
ESRC-funded research on linguistic and cultural appropriateness of AAC symbols.
Pilot systems are currently being developed for Somali- and Chinese-speaking patients with respiratory problems (asthma).
'Faking it' experiments with Greek, Pitjantjatjara (Australian Aboriginal language) and Somali